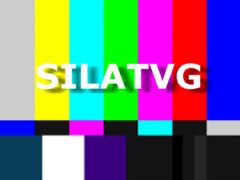 Welcome to Bob, KA9UVY's Mobile ATV Trek Across America
Re-printed with the authors permission
Also available in the Fall 2001 issue of Amateur Television Quarterly
---
On the road with ATV
What I did on my summer Vacation
By Robert Delaney, KA9UVY
10630 N. Delaney Lane
Mt. Vernon, IL 62864
What do you do if the band just hasn't seemed to open for you and you haven't been working any new ones on ATV? Here's what I did.
My girlfriend Shannon has family up in Skanteateles N.Y. about 35 mi. SE of Syracuse. We had planned to go up and stay a few days with them and take in Niagara Falls on our vacation. The trip would take us through Indiana, Ohio, the tip of Pennsylvania and across W. NY. We would pass through Known (ATV Country) so why not try to work ATV on the way? I figured we would surely work someone in Indy, Dayton, or Columbus. Wrong! I'll explain later but first I had to decide on what equipment to take along.
I knew I wanted to work with a horizontal antenna on the car since I would be targeting DX operators and not repeaters so I chose the Little Wheel designed by Dave Clingerman W6OAL of the Olde Antenna Lab in Denver Co. I had made a homebrew model of this antenna (see pic 1) and just needed to fashion a mag mount for it. I chose my old TC-1 P.C. Electronics transceiver with about 7 watts average video out as the backbone of the system, minimal power but proven reliable with several miles on it already in mobile work locally. I went with an Action 9-inch black and white 12-volt dc television figuring its size was manageable and it would be big enough to see them if I got somebody in. An old 12-volt vhs-c camcorder would set on the top of the whole mess and provide out the windshield drivers view video. A Sony handy cam would be used for Video eyeball qso's, points of interest on the roadside and provide video ID. It also would provide me with a way of recording any received video.
I made a pedestal from some 3/8th-inch plywood to elevate the system from the floor of the car and it would all sit on the hump between the front and back seats of Shannon's 96 Mercury Mystique. (See pic #2)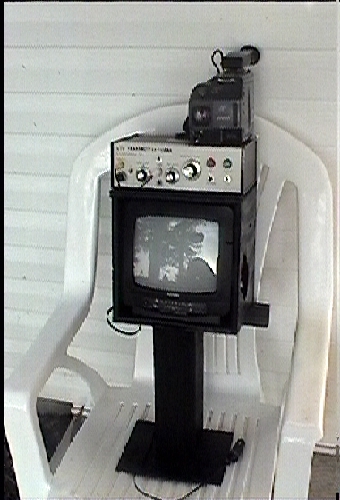 For talkback I took along my old dual band Kenwood TM-732A hooked up to a mag mounted dual band Larson. I would use it on 144.340 for calling, while sniffing for video on the uhf side of the rig.
I tried to let some of the ATV 'ers up that way know we were coming but last minute departure kept me from making any real schedules.
We left Mount Vernon, Illinois at about 7:00 PM CDT Friday, August 17th, 2001. The timing was poor indeed; we passed through ATV country in the middle of the night. I failed to raise a soul on 144.340. I did manage to see K9LPW/R the Indianapolis repeater while passing through but didn't catch anyone looking. I did do something on the way that would cost me later. I noticed that with the 9-inch television on in the car at night it seemed to illuminate the entire interior of the car. We must have looked a bit like a spaceship to other motorist and would surely get the attention of any state trooper. So when we stopped for a nap north of Columbus, Ohio. I managed to reach the brightness control and backed it down.
After our quick nap we headed North up I- 71 toward Cleveland after grabbing a mcmuffin from the area Macdonald's. I was on the mike and Shannon was behind the wheel.
First station to answer my CQ was WA8SAJ Jeff in Cleveland. He was obviously glad to here some activity on 144.340 and a quick get acquainted conversation followed. He invited us to stop by for an eyeball QSO but we were already past his exit and on 271 headed for I-90.
We tried video but he said we were past the sweet spot and no TV contact was made. We pledged to try again on the return trip through and got his phone number.
Well needless to say I was encouraged to make more noise on 144.340 after hearing a real ATV station.
Onward to Erie, PA. Looking for W3POS, Where were you? Oh well, nothing heard so my next hope was the Buffalo, NY area. After many CQ's we heard light copy on 144.340 and someone had heard me.
It turns out it was Don W2WHK in Tonawanda, NY he and a few other ATV'ers were working that morning. By the time we got into solid 2-meter range they had all cleared the air.
After a couple of quick calls into thin air someone came back and acknowledged me. It was Casey W2OSW of Buffalo, NY. He was friendly and curious about the ATV setup. We decided he would transmit first but I couldn't see anything so he said he knew another ATV'er with more power and called out for Mark N2SIT of Marilla, NY. Mark came on and we got aquatinted briefly and figured out where he needed to point his beam. Mark fired up and I saw something but the TV just didn't look right. I finally rocked the tuner enough to get a glimpse of his pic yes P-1 at least with lots of flutter. I just couldn't see it very well.
It was my turn to transmit so I crossed my fingers and flipped the switch. Well the silence on 144.340 seemed to go on forever so finally I picked up the mic and asked well what you got? Mark came back and said just sync right now. I let it burn for a few minutes and then Casey his voice almost bursting with excitement keyed up and said " I see it, I see it!" I zoomed in with the camera on a white van up ahead and he said "your behind a white van!"
Yes he had me and pretty good. He gave me a P-3 report and I couldn't wait for him to come booming in when it was his turn to transmit. Well I rocked the tuner and found his signal but I just couldn't see it very well. He had to settle for a P-1 from me and I just couldn't figure out why I couldn't see their pictures.
OOP's Remember the adjustment I made back in Ohio? I had the brightness backed off to far and the sunshine of the August morning was washing out the TV screen. I couldn't get to the control without stopping the car and crawling in the back so it would have to do. After working with Mark N2SIT and finally getting my video to him Casey got Don W2WHK (The station that originally heard us coming into town) back on for a try. We never made it with him on video as we were headed east at a rapid pace but we did discuss details of a try on the way back through later in the week.
I found out that the W NY area has a group that gets on 3 times a day. They would be on at 10:00am, 3:00 PM and again at 10:00 PM Eastern. I also asked about an ATV'er that I had met through the ATV Reflector, Dennis K2CEC in E. Aurora NY. They all knew him but he wasn't on that morning so I asked them to pass along a big hello from S. Illinois for me and they said they would.
Shannon and I were buzzing from the contacts and our excitement lasted all the way to Skaneateles where we were to be staying for the next few days. I am glad the excitement lasted because I failed to make contact with any ATV'ers from where we stayed.
The next few days were filled with sight seeing, swimming and getting to know her family. I found very little time for radio but did make some observations. I did find some SSTV activity on 147.150 but couldn't get into the repeater to find out if anyone in the area operated FSTV. I also studied the UHF broadcast band and noted some tropo into Ontario. Rochester NY stations were P-5 almost all of the time with only a Bowtie indoors. While Syracuse NY less than 40 mi. was unwatchable due to multipath down in the lake valley.
We left Skaneateles Lake on Thursday morning Aug 23rd a day earlier than planned. The Buffalo area guys wouldn't be looking for us so we would have to make some noise and hope for the best as we headed for Niagara Falls and Canada. By the time we got to the Clarence Service Area on I-90 we had them on .340. They had been working with 900 MHz ATV. We attempted Video with Joe WA2PZV in Kenmore NY, Don W2WHK Tonawanda NY and Casey W2OSW in Buffalo. We were unable to get much better than sync from anyone and then K2CEC ATV popped on the screen. It was Dennis from E. Aurora NY the guy I had been looking for originally. It was the first received signal that I was able to record. (See pic #3).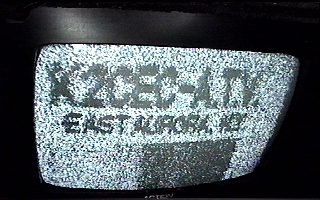 We tried various parking places but could only manage P-2 video at best. We decided to get moving and Don said we would come very close to his QTH on the way to the falls so we would have an easy time working him on the way up. I mentioned to Dennis that I would love to work a VE3 on ATV and he said he knew a very active operator in Niagara Falls Ontario. He would call him on the twisted pair and try and get him on! As we went on up toward the falls Don W2WHK did indeed put in some good video with P-4+ signals at times. (See pic#4) He also helped us navigate our way through the city.
Just before we crossed the Grand Island Bridge Bob VE3BHH came on 2 meters and said hello. We got acquainted briefly and started to work at Video. I can't recall who saw whom first but the excitement level jumped to 10 when his Id slide popped on the screen. (See pic#5) I was turned around tuning the Rx and trying to capture his video when Shannon had to stand on the breaks almost sending me backward through the windshield camera still in hand! It seems a few vehicles on the downhill side of the bridge were dead stopped. After that and a few choice words from my pilot snapped me out of my ATV trance we decided we had better get parked to work with the VE3. While all of this was taking place Bob called up Ralph VE3KYW and he came on to work us. We worked Ralph with around P-2 Video but the FM interference was terrible and a capture of his Video was too poor to be pictured here. We worked the Canadians for a bit but it was time to sightsee. That's what we came for right?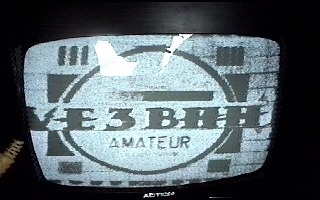 We did the American side tour and decide it was time to cross the border into Canada and operate /VE3.
Let me tell you that antennas like the Little Wheel, cameras and wires running everywhere might make you look a little suspicious to border guards. Yes we were asked to pull to the side so the vehicle could be searched. While they were going through the car I was shooting Video for the guy's back home and I didn't really get nervous until I hear this voice on my right "Sir there's no video allowed in this area"
Huh? I didn't see any signs about shooting Video? " This is a Federal area and I'll have to take your tape Sir" What! I had ATV contacts on the tape and wasn't about to surrender it. After some discussion we were able to rewind passed the inspection part and tape over it pointing at the ground.
Whew! That was a close one. We did finally get to cross into Canada and see the falls from the Canadian side but didn't make a single contact while /VE3.
We also failed to get any Video contacts on the way back down through Buffalo but did enjoy good conversation with Dennis K2CEC about ATV gear and such. We said goodbye to Dennis and headed for Erie PA still looking for W3POS with no luck.
Our next contact was with Mark KB8FKM of Fairport OH. (See pic#6) He had never worked a mobile ATV station and he and his XYL enjoyed the live freeway shots as we sped along I-90. We also worked Jeff WA8SAJ of Cleveland OH. (See pic#7) The pic of Jeff really doesn't do him justice because he achieved near P-5 signals at times (just not when I was recording.) We decide it was a little late to drop in for and eyeball QSO since he had to work the next morning.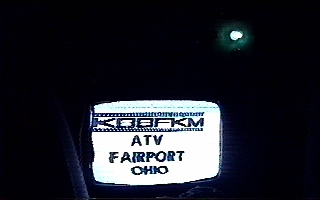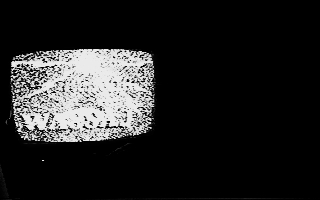 As we got out of range from Jeff and Mark another ATV'er from Hinkley OH. Came on for a try. It was Joe K8JAS. We tried with him for several miles but had to settle for good conversation on 2-meters again.
Here is where it gets a bit embarrassing for me again. After stopping for gas near Columbus OH and getting interference from the pumps I turned the Volume down on the 2-meter rig. I called CQ all the way down through (ATV Country) and didn't discover my error until we were back in Illinois. I hope we didn't get to many answers.
As we made our way over to I-57 to head south I did hear some activity on .340 but it was to weak to copy solid. The next contact we made was with Jim KA9EGM of Centralia IL. (See pic#8) Jim represents the North Point of the Southern Illinois ATV Group and video was exchanged with him for about 10 miles.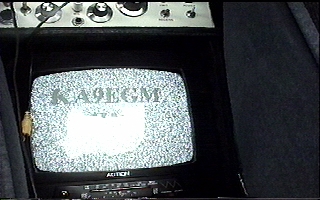 We knew we had made it home when we worked our last contact of the trip Glenn W9TZB of Mt. Vernon IL. With P-5 video received all the way into the driveway. (See pic# 9)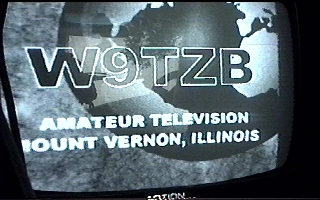 Clearly no new records were established and no great advancements were made to ATV on our trip but we had a real blast getting to know others that share an interest in this special mode. We found everyone to be very friendly and helpful. Maybe all ATV'ers suffer from the Maytag Repairman syndrome and just need a chance to work someone on TV but I encourage everyone to take your ATV gear with you when you travel across the country and promote ATV. It's worth it!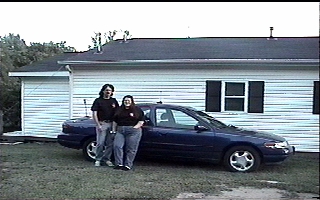 This page has been accessed
since 02-24-2003
Last update to this web was on 12/31/07 08:51:13 PM
Questions or comments? n9azz@arrl.net
http://www.tedeschiforjudge.com